Beef Steak Tartar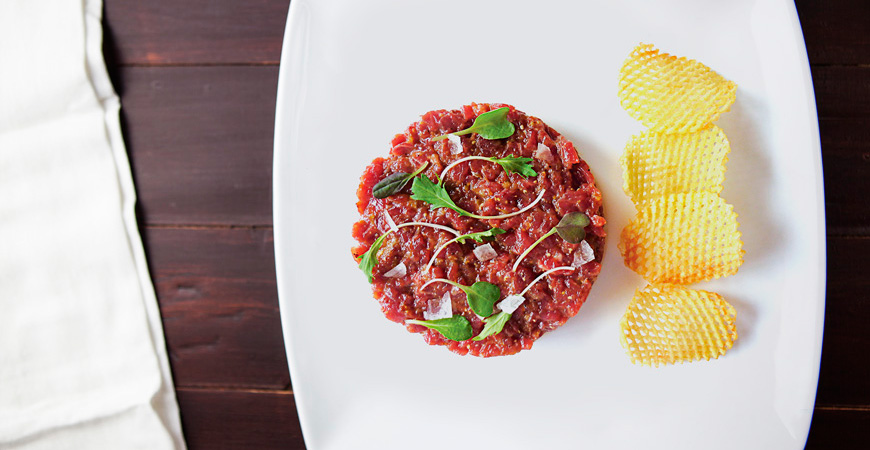 Beef Steak Tartar.
Dish made with raw ground beef. Served with finely chopped onion, capers and various ingredients, an egg yolk is added.
---
Ingredients and Elaboration
---
Ingredients:
250 gr of beef tenderloin.
25 gr of onion.
25 gr of pickles.
25 gr of capers
3 anchovies.
2 egg yolks.
25 gr of mustard seed.
Perrins Sauce.
Olive oil.
Salt.
Black pepper.
Tabasco.
Elaboration:
Using a good chef's knife, finely chop the tenderloin making small pieces of meat that are appreciated to the palate. Put in a deep dish, seasoning and reserve.
Then finally chop the onion, pickles, capers and anchovies. Mix these ingredients just chopped with the meat and then add the olive oil, a few tabasco drops and a little Perrins sauce.
Lastly, add the egg yolk and mix-it.
Cover the meat with plastic wrap to prevent oxidation and let it stand in the refrigerator for 15 minutes.
---
Presentation
When serving, you can accompany the Tartar Steak with some bread toast, some chips or some cheese biscuits.
---
Related Recipes ...

---
Related products
Stainless Steel - POM Handle - Forged

Stainless Steel - POM Handle - Forged
Share this content
Up